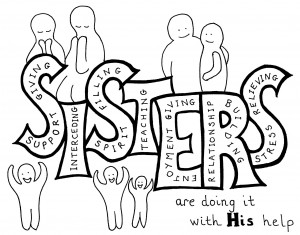 Sisters are doing it with His help!  This group is designed especially for all you ladies.  Its purpose is to offer support, prayer, teaching, and provide enjoyment.  Its also a great way to build friendships, so watch this space for more details, but if you're interested have a chat with Sabina.
See Sabina for upcoming dates for 2023
---
18 ladies attended the first session, and it was enjoyed by all – especially the take-away pizza!  There was laughter, games, testimony, and prayer.  We want to make this a place of trust.  Friends are welcome, but this will only work if people commit to attend regularly.
Thank you for an excellent, funny, and well organised evening.  I had a fabulous time and am looking forward to building relationships with sisters in Christ.  Let it grow!